Battery Storage
Energy Storage is the holy grail for green energy.
SophSys BV works closely with its partner SuWoTec, the developer of the Bio Based Battery.
Now taking pre-orders, the Bio Based Battery by SuWoTec is the first operational 100% renewable battery. In a 40ft container, a 1MWh battery is placed consisting of sand, salt, leaves and water. Using non-corrosive electrodes, this battery unit will last for at least 10 years, and with the correct maintenance even longer.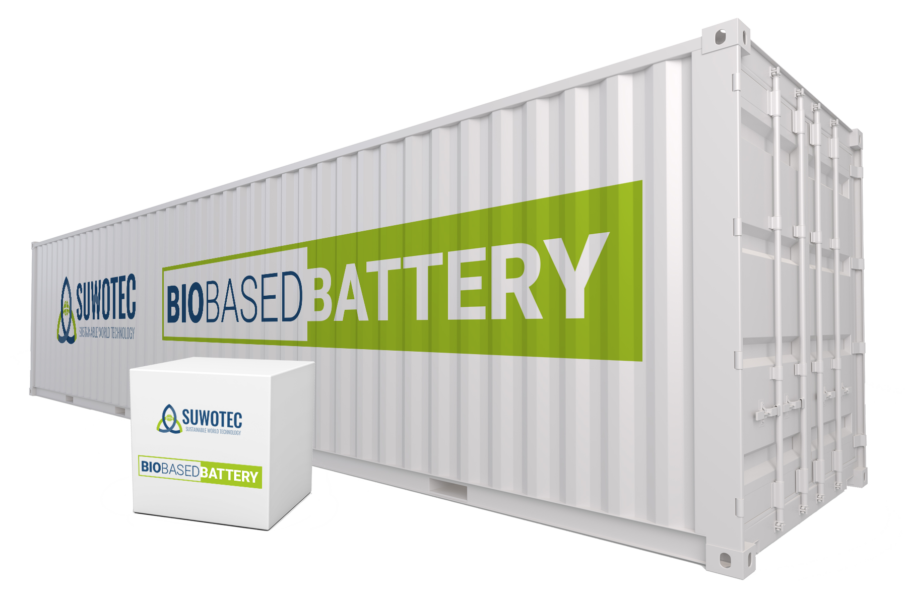 Efficiency
Keeping 100% of its efficiency during the entire lifespan, the Bio Based Battery is the most efficient battery unit available on the market at this moment.
As the unit is built to operate even in the most dangerous environments, the unit is fireproof and has a built-in safety system that prevents overloading.
The Bio Based Battery is in its final stages of development and will enter the world market soon.

Bio Based Battery example
Wind farm and solar park
Being able to harvest the energy available, even if the demand is low. Storing your excess energy made by your solar panels or windmills helps you improve your efficiency. Electricity available when you need it, at the speed you need it.
Festival
Having enough reliable energy available on site is one of the most important issues for event organizers. Being able to store 1MW/h in a 40ft container, the Bio Based Battery is the perfect solution for your event and festival. Store solar or wind energy and your event will be 100% green powered, a marketing must.
House
Making the most out of your solar panels? Store the excess energy in the bio Based Battery type II. Only 1x1x1 meter, the unit can be hidden underground in your front or backyard and store all the energy your panels can produce.
Grid stability
Decentralized energy production, upcoming green energy producers via wind and solar, large coal power plants, they all have one problem, access to energy at certain moments during the day. At this moment in time, the windmills and solar units are disabled when an overproduction of energy occurs. This is a loss of energy, but also causes fluctuations on the main grid. Peak or dump loads of energy at unwanted moments can cause major damage to the main grid and this will affect all surrounding areas and countries. The Bio Based Battery can be used to temporarily store access energy from the main grid and make it available at the time it is needed.
Tender advantage
Using the Bio based battery as part of your green solution, winning a construction tender will be closer than ever. Transport a fully solar charged 1MWh unit onto the site of operations and ensure your team works only on 100% green energy whilst you fulfill the required green solutions on Co2 reduction.